Course details
【All you can eat】 Plan meat festival Pig / chicken / beef's all-you-round selection Sushi All you can eat ¥ 1980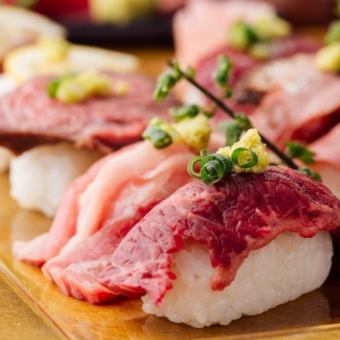 1980 yen
※ The amount displayed will be tax excl.
Reservation deadline

Visit of hope the day before until 17:00
We will hold an all-you-can-eat plans for topic hot pickled sushi of swine / chicken / beef for a limited time with entitled Tomari no Meiki Festival.Because it is guidance with limited number of groups, please contact us as soon as possible if you wish to book.
Course menu
◆ All you can eat selected pigs / chicken / beef sushi
Grilled beef tongue
Broiled chicken wasabi
Raw ham
Duck smoke
Horse sashimi
roast beef
* It is all-you-can-eat all-you-can-eat and it is the last order at 75 minutes after the start.
※ Order over 1 drink or more, or an all-you-can-drink order of 1800 yen is required.
* Depending on the purchase situation, the part of meat and how to eat may change.
※ Friday, Saturday and public holiday is +500 yen.
2018/06/09 update