Course details
Kochi! 【Meat Tower Nabe Course】 Specialty of choice Matsuzaka pig or beef tongue 2 hours with drinks all-you-can-eat with 3980 yen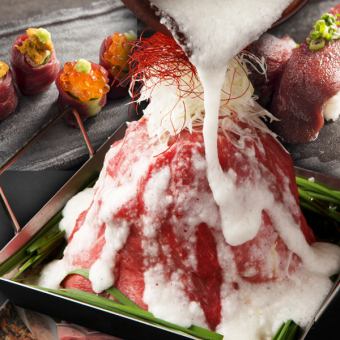 By using a coupon3980 yen
※ The listed price will be tax-excluded price.
All-you-can-drink available

All-you-can-drink beer ◆ / ★ premium all-you-can-drink
Reservation deadline

Visit of hope on the day until 21 pm
Newly appeared! Superb meat tower pot! The meat tower that is made to be popular is also popular with photogenic !! The meat tower can choose the favorite one of the specialty Matsuzaka pig or beef tongue.Please enjoy last from the top of the roe.All you can drink without beer ⇒ 3980 yen (excluding tax) All you can drink with beer ⇒ 4280 yen (excluding tax) Premium all you can drink ⇒ 4580 yen (excluding tax)
Course menu
Ichiya Beebee smooth lagoon bean wee
Towards) Build of lively (In summer it will be OK)
Vegetable) Kaita fried shrimp and crunchy radish salad ~ with plum dressing ~
Dried rice with fried rice
Two varieties of homemade tempura in season)
Nabe Boil) Kochimaki! Meat Tower Nabe Specialty Matsuzaka You can choose whichever you prefer beef tongue.
Meals) Kotomi of the pot dead
Sweetness) Today's dessert
※ Please choose meat tower pot by the day before.If there is no designation, we will prepare Matsuzaka pig.
All-you-can-drink menu
·Cocktail
· Jin / Vodka / Lamb / Cassis / Campari / Peach / Lychee / Kalua / Wine / Malibu Base · · Over 40 types
·sour
· Miscellaneous tea ceremony, sour (lemon / gureful / calpis / summer makan / no western / giant peak / pineapple / yuzu honey), beauty sour (horn cutting apple / white peach milk / mango / aloe / kiwi / cam cam)
·Whisky
· High Ball / Plum wine High Ball / Cork High / Tonic Hi Ball / Ginger High Ball
·Soft drink
· Coke / ginger ale / orange juice / grapefruit / oolong tea (hot / cold) / jasmine tea (warm · cold)
· ◆ Beer
· Asahi Super Dry / Chandigafu / Red Eye
· Japanese sake / plum wine
· Japanese sake rice wine · hot rice / rich plum wine
· ◆ wine
· Almaden · Classic 【California】 (Red · White): Glass / Decanter
· ★ authentic shochu · sake
· 【Potato】 Satsuma Tsushi · Tominaga mountain 【wheat】 Kariwara 【Rice】 Silver Wind 【Awamori】 Umizara 【Brown sugar】 Ren and 【Shiso】 Toge Tan 【Japanese sake】 Hakkaisan, Echigo tiger, Jikuro Kaga, Kaga 鳶Horai Izumi
· ★ Whiskey · Akegoshi Fruit · Sparkling
· [Whiskey] Jack Daniel 【Akeike fruit wine】 Peach · apple · oranges · yuzu · plum 【Sparkling】 Grand dual
2018/06/09 update